Emperor sows rice seeds at palace
Japan's Emperor Naruhito has planted rice seeds at the Imperial Palace.
Rice cultivation at the palace was initiated by the Emperor's grandfather, Emperor Showa, to encourage farming. Emperor Naruhito took over the activity from his father, Emperor Emeritus Akihito, who abdicated in 2019.
On Tuesday morning, the Emperor squatted down at a nursery bed and planted two kinds of rice seeds from last year's palace harvest. He sowed about 180 seeds each in several 30-by-30-centimeter plots.
In May, he will take the seedlings that grow and plant them in a rice paddy, also at the palace.
The rice will be harvested in the autumn and offered to deities in Shinto rituals at the palace, including the Niinamesai harvest festival in November.
Japanese
天皇陛下が皇居で稲の種もみをまかれました。  まかれたのは、うるち米のニホンマサリと、もち米のマンゲツモチの2種類です。  陛下はジャンパーにズボン姿で腰をかがめ、かごに入った約700粒の種もみを苗代に丁寧にまかれていました。 -
ANNnewsCH
---
Rice balls that can be stored for 100 days at room temperature released in Japan
Grape - Jul 12
Onigiri, or rice balls, are one of the most popularly enjoyed snacks in Japan. With a wide variety of flavors, they can make for a meal on their own–even if the way to open one sometimes seems like figuring out a puzzle to the uninitiated.
High grain prices prompt Japan farmers to grow wheat rather than rice
Kyodo - Jun 11
More Japanese farmers are planning to lower their rice production and switch to wheat and soybean this year amid rising grain prices caused by Russia's war in Ukraine, according to a government survey.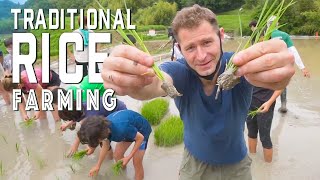 How the Ancient Japanese planted rice- and how we can see it today
WAO RYU!ONLY in JAPAN - Jun 20
In this video we are going to visit the peace and nature NPO organic farm in Kobe Japan.
Learning To Make Japan's Award Winning 1st Class Sushi | Temari Style Ball Sushi
WAO RYU!ONLY in JAPAN - May 23
Most people are best acquainted with Japan's nigiri sushi or the very popular more western style of preparation where sushi is prepared as a roll (maki style).
Japanese Decorative Sushi Story | Saiku Style
ONLY in JAPAN - Apr 10
This variety of sushi is a lost art and unknown outside Japan. The elaborate designs and use of the ingredients create beauty from food. This is SAIKU SUSHI and was quite popular in the Showa era but has sadly disappeared.