MISO SOUP
How to make Miso soup
---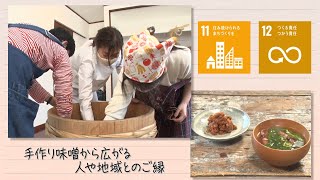 Handmade miso brings communities together
ANNnewsCH - Apr 13
100 people add miso to the same tub and enjoy the flavors and reunion one year later.
Fermented or Unfermented Soy Foods for Prostate Cancer Prevention
NutritionFacts.org - Mar 21
Which appear more protective, fermented soy foods, such as miso and tempeh, or unfermented soy, like tofu and soymilk?
Miso Benefits, A Fermented Superfood Condiment
SuperfoodEvolution - Mar 21
Miso is a fermented salty bean paste made from cooked beans, salt and a culture starter called "koji" and is traditionally used to make the famed "miso soup."
Is Miso Healthy?
NutritionFacts.org - Mar 21
Miso is packed with sodium, which is linked to both stomach cancer and high blood pressure, so it is safe to consume miso?
Japanology Plus: Miso
NHK - Mar 21
Miso, a fermented soybean paste, is a bedrock of Japanese cuisine. For many Japanese, it offers a taste of home. It is made using koji mold, a fermentation starter that flourishes in Japan.