How Much Arsenic in Rice is Too Much?
Strategies to reduce arsenic exposure from rice.
---
Rice balls that can be stored for 100 days at room temperature released in Japan
Grape - Jul 12
Onigiri, or rice balls, are one of the most popularly enjoyed snacks in Japan. With a wide variety of flavors, they can make for a meal on their own–even if the way to open one sometimes seems like figuring out a puzzle to the uninitiated.
High grain prices prompt Japan farmers to grow wheat rather than rice
Kyodo - Jun 11
More Japanese farmers are planning to lower their rice production and switch to wheat and soybean this year amid rising grain prices caused by Russia's war in Ukraine, according to a government survey.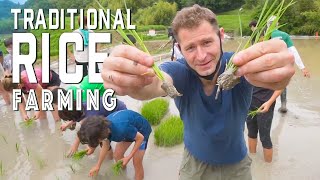 How the Ancient Japanese planted rice- and how we can see it today
WAO RYU!ONLY in JAPAN - Jun 20
In this video we are going to visit the peace and nature NPO organic farm in Kobe Japan.
Learning To Make Japan's Award Winning 1st Class Sushi | Temari Style Ball Sushi
WAO RYU!ONLY in JAPAN - May 23
Most people are best acquainted with Japan's nigiri sushi or the very popular more western style of preparation where sushi is prepared as a roll (maki style).
Japanese Decorative Sushi Story | Saiku Style
ONLY in JAPAN - Apr 10
This variety of sushi is a lost art and unknown outside Japan. The elaborate designs and use of the ingredients create beauty from food. This is SAIKU SUSHI and was quite popular in the Showa era but has sadly disappeared.