"Balanced Japanese diet" helps reduce COVID-19 risk
There are concerns over the link between obesity and the severity of COVID-19 infections, with Fukushima Prefecture having 4th highest incidence of metabolic syndrome in Japan.
Professor Toru Sakai of Tokushima University Graduate School believes there is "a mechanism whereby the condition of obese people becomes more serious once they are infected."
According to Professor Sakai, studies show the risk of contracting an infectious disease increases three to four times for obese people, with reasons including pressure on the lungs and heart, and abnormal metabolism throughout the body.
Studies have shown that people with a BMI above 35 have a 7.36 percent greater risk of aggravated infections compared with people with a BMI below 25.
Vitamin D deficiencies may also be related to the infection rate and severity of COVID-19. While outdoor activities such as walking can boost vitamin D levels, dietary intake is another source.
The recommended daily intake of vitamin D is 5.5 μg, with a slice of salmon containing 32 μg and a slice of mackerel 11 μg.
Professor Sakai recommends a balanced diet of Japanese food to prevent viral infections and aggravated COVID-19.
Japanese
---
Japan's bento box — so much more than just a packed lunch
dw.com - Jul 28
From its humble beginnings in the 12th century, the bento box has come a long way to being a healthy and filling midday meal that is both cheap to make and often a miniature work of art.
Traditional Japanese food may hold building blocks of COVID-19 treatments
eurekalert.org - Jul 22
Natto, a fermented soybean dish often served for breakfast in Japan, originated at the turn of the last millennium but may hold an answer to a modern problem: COVID-19, according to a new study based on cell cultures.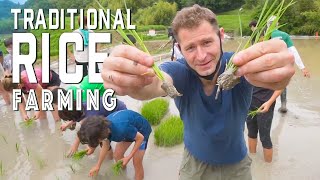 How the Ancient Japanese planted rice- and how we can see it today
WAO RYU!ONLY in JAPAN - Jun 20
In this video we are going to visit the peace and nature NPO organic farm in Kobe Japan.
How Japanese Green Tea is Made Beneath Mt. Fuji
Japan by Food - Jun 20
How is green tea made, you wonder? Join Phoebe Amoroso in this episode of Pheebz to Table, where she meets 5th generation tea master Honda Mohei at his tea farm in Shizuoka (Fuji-san Marumo Tea Garden - 富士山まる茂茶園).
Researchers in Japan use soybean compound to make catfish 100% female
The Mainichi - May 27
SHINGU, Wakayama -- A team of researchers in Japan has succeeded in making catfish all female with a compound found in soybeans -- a development that promises to increase the production efficiency of this and other species whose females are more valuable than males in the food market.